Studying abroad during the COVID-19 pandemic is both unnerving and challenging. Travel regulations change by the hour, which can frustrate students, agents, and higher education institutions (HEIs).
For the students, they need to understand the COVID-19 rules and regulations to enter the new country. This is a major factor when choosing a study destination, as safety is a priority when going into a foreign country especially at this time. To do this, they need access to the correct and latest official information.
MIST, a member of MIST Financial Pty Ltd of Australia, partners with MSM Unify to provide risk assessment as a value-added service to make study abroad safe, secure, and convenient for international students. A COVID-19 Travel Risk Assessment is offered to students to understand the changing rules and regulations of the pandemic in the new study destination.
MIST provides a near real-time COVID risk and assessment report from over 35 global sources of data. The report includes pre-travel requirements, such as:
Any required COVID tests and when to take them
Flight and transit risks
Destination country's updated entry rules and regulations
Vaccine documents
Quarantine or isolation requirements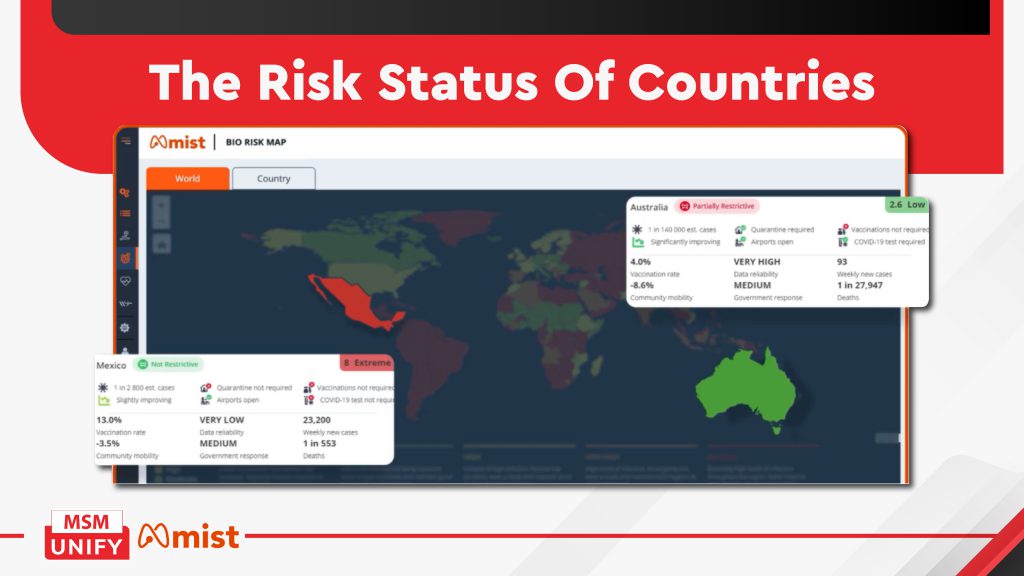 The collaboration between MIST and MSM Unify can help students navigate their international education journey by easing the fear of the unknown, such as the ongoing pandemic. With MSM Unify, agents and partner institutions can extend their help to international students, including choosing the best study program, booking a language proficiency test, assisting with loans, and finding employment after completing an academic program, along with providing a comprehensive travel risk assessment.
International students need MIST's COVID-19 Travel Risk Assessment now more than ever. This ensures students the best possible arrival and readiness to take on their new life abroad safely and securely.
Visit www.mistmoney.com/travel where you can access travel reports and find a range of services specifically designed for people moving overseas to live, work, or study.
MSM Unify is your one-stop source platform that connects students, agents, and higher education institutions in the world. An extra layer of support and assurance is given to international students as they embark on their journey overseas. Join now to get the latest updates and information on international education.