Education agents assist international students before, during, and after leaving their own country to pursue their study dreams. Agents make the journey easy and convenient for individuals who are going to pursue their studies in a totally different environment. As the world continues to cope with the COVID-19 pandemic, providing students with valuable information about travel regulations and safety protocols has become an immediate need.
MIST, a member of MIST Financial Pty Ltd of Australia, collaborates with MSM Unify to provide an exciting value-added service, the Travel Risk Assessment for COVID-19. With this, education agents can help students achieve their study dreams abroad safely amid the ongoing pandemic.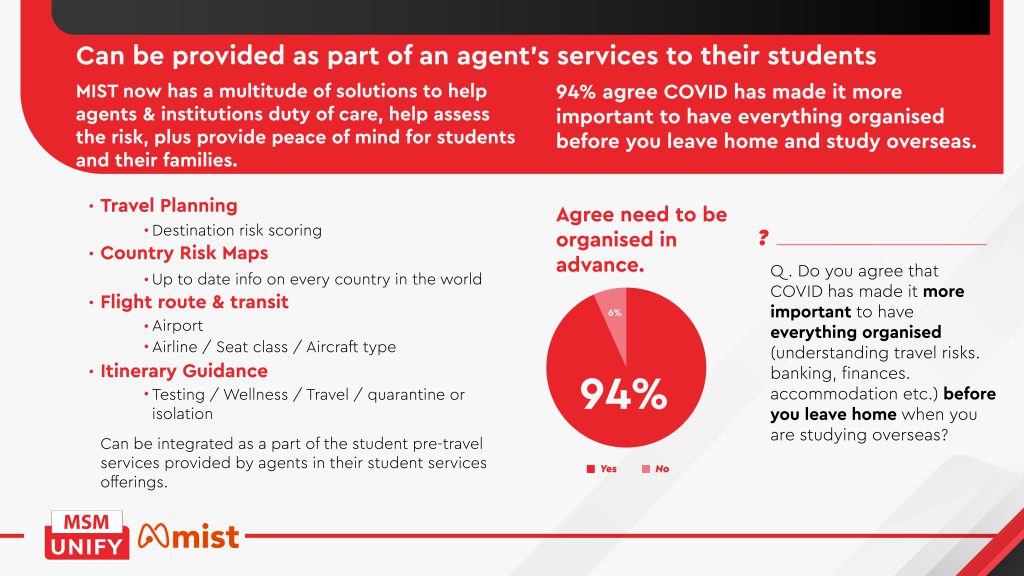 MIST provides a near real-time COVID risk report coming from more than 35 global sources of data. Education agents can help international students understand and be prepared for the risks that come with the pandemic and their travel to their host country.
The Travel Risk Assessment is a detailed report that reveals a study destination's overall COVID-19 risk rating. It covers key areas such as; the entry requirements to the country they will be studying in, vaccination rates, positive test rates, trends of COVID in that country, and much more. This is valuable to education agents because they will know how to make sure the student has all the information available in near real-time and as they market a particular institution to prospective students around the world.
The report follows the guidelines set in ISO 31030 by the International Organization for Standardization (ISO) for pre-travel risk management.
The collaboration between MIST and MSM Unify provides great opportunities for education agents as this service offers a layer of assurance for international students for their studies overseas. When the COVID-19 pandemic will end remains uncertain, and it is a perfect time for education agents to offer this service to all international students.
Visit www.mistmoney.com/travel, where you can access travel reports, and you will find a range of services specifically designed for people moving overseas to work, study, or live!
MSM Unify is your one-stop source platform that connects students, agents, and higher education institutions in the world. An extra layer of support and assurance is given to international students as they embark on their journey overseas. Join now to get the latest updates and information on international education.